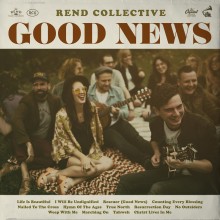 NOT YET AVAILABLE
Due January 2018
Pre-order your copy now and we will ship as soon as the album is released.
"Good News is the album where Rend Collective have tried to be as Rend Collective-y as possible. In the past we've been insecure and sometimes let that insecurity stop us from fully being ourselves and worse - from fully expressing the unique(weird?) identity God has given us. But Good News is our unfettered, uncaged, unapologetic announcement of old fashioned, transforming, earth shattering gospel. We celebrate loud, we lament openly and we sing simple truth like we mean it. This record was hard-fought - we held nothing back and laid our vulnerable selves out on the altar of each and every track. Thanks so much for inspiring us and cheering us on - we love you! (And we hope you agree with us that this our best yet!)" - Rend Collective
Hailing from a small town off the coast of Northern Ireland, Rend Collective (Gareth Gilkeson, Chris Llewellyn, Ali Gilkeson, Patrick Thompson and Stephen Mitchell) wants to be known as a celebration band, worshiping for God's Glory and fame. Since the release of their first album, Organic Family Hymnal, the group's authentic and energetic style of worship has attracted an international audience.