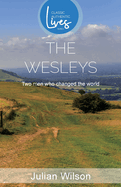 The inspiring story of the lives and ministries of John and Charles Wesley, the founders of Methodism.

John and Charles Wesley are among the most influential Christians who have ever lived. Their fearless preaching in the face of violent opposition and the rise of the Methodist movement powerfully influenced an eighteenth century England that was rife with corruption, drunkenness, crime and religious apathy.

Julian Wilson provides a vividly detailed account of the Wesley brothers' lives and ministries. John Wesley travelled ceaselessly on horseback, preaching gospel sermons that transformed whole communities whilst Charles Wesley became probably the most prolific hymn writer in history.

This engaging book will help you to appreciate the significance of John and Charles Wesley in their own time and understand why their spiritual legacy endures today.