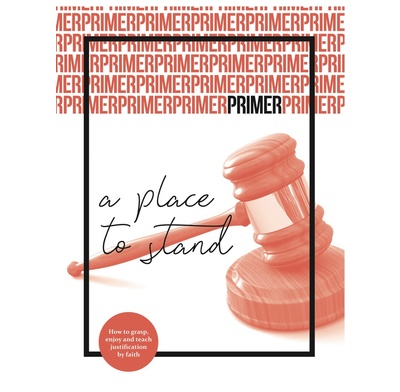 Primer is a unique resource to help gospel workers put theology into practice.

Each issue takes one theological topic and chews it over: learning from the past, reflecting on the present and rubbing it into the realities of church life.

Primer is crafted to save you time, serving up an 80 page digest of each topic, but it also encourages you to take time. We want you to turn off the devices, put on the kettle, draw others round, and see the difference theology makes to the life of the church. It's designed to be enjoyed, scribbled over and wrestled with.

When people hear the word "justification" they don't always think of a joyful standing place. Instead, it's often a doctrine tarnished by endless theological debate and historical division.
Primer Issue 04 deals with that head on.

It includes an overview of the debate from the early church to the Reformation before we annotate some John Owen – who took up the fight in his day. We outline the differences between the Catholic and Protestant positions on justification before wrestling with the "New Perspective" on Paul. Finally we apply this wonderful doctrine to preachers as we show how justification relates to other big themes of scripture before suggesting resources for further reading.